We're pleased to reveal the schedule of events taking place at QuakeCon 2017.
This year, QuakeCon opens on Thursday, August 24th at 10am CT and will remain open through 12pm CT on Sunday, August 27th at the Gaylord Texan Resort and Convention Center in Grapevine, TX.
In the Exhibit Hall, which will be open from Thursday to Saturday 10am – 6pm daily, attendees have the opportunity to be some of the first to get hands-on time with the highly anticipated The Evil Within 2, Wolfenstein II: The New Colossus, and Dishonored: Death of the Outsider, as well as jump into Quake Champions and Bethesda's upcoming VR titles — Fallout 4 VR, Skyrim VR and DOOM VFR.
A full list of events and activities including details on hours, exhibitors, and sponsors can be found below.
Those planning to attend should download the Official QuakeCon App on their Apple or Android device to stay up-to-date with all of the latest and greatest activities at the show.
Fans unable to attend can tune into Twitch.TV/QuakeChampions to watch the Quake World Championship action live throughout the show.
Thanks to the support of id Software and Bethesda Softworks, as well as the 2017 event sponsors and exhibitors, and the dedication of the QuakeCon volunteer staff, QuakeCon is free for general attendees.
To pre-register, visit: http://registration.quakecon.org.
(Please note: All times listed are Central Time.)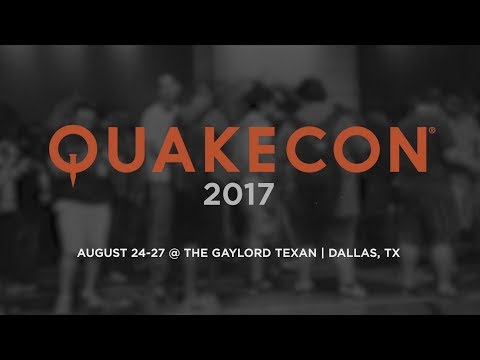 FEATURED QUAKE LIVE WORLD CHAMPIONSHIP ACTIVITIES
FEATURED TABLE TOP VILLAGE ACTIVITIES
Thursday, August 24 – Ticket to Ride Table Top Tournament
Friday, August 25 – Settlers of Catan Table Top Tournament
Friday, August 25 – Friday Night Magic Tournament
Saturday, August 26 – Magic the Gathering Star City Invitational Quarterly Qualifier
Please note: The Table Top Village will be open for the duration of QuakeCon.
EXHIBIT HALL PASSPORT PROGRAM
Play our newest games and win some great prizes.
This year's Bethesda booth will feature a QuakeCon Passport Program where playing our games (Wolfenstein II, The Evil Within 2, Quake Champions, Dishonored: Death of the Outsider) can lead to some fantastic prizes.
You can win amazing prizes, including Raffle Tickets for the 10th Annual 'Ultimate Power Up Sweepstakes".
For a second chance to win, simply stop by the booth and show that you have The Elder Scrolls: Legends downloaded on your phone or tablet.
Good luck!
FEATURED EXHIBIT HALL EVENTS
This year's Exhibit Hall hours, non-profit partners, exhibitors and sponsors are listed below.
In addition to the events above, the Exhibit Hall's Ventrilo Event Stage will feature numerous presentations and activities from our 2017 exhibitors and sponsors – including a QR scavenger hunt for great prizes.
And don't miss out on the hilarious and fun mini-games brought to you by our Community Engagement team!
The full Ventrilo Event Stage schedule will be available on the Official QuakeCon App (Apple, Android, Windows).
Exhibit Hall Hours:
Thursday, August 24th: 10am – 6pm
Friday, August 25th: 10am – 6pm
Saturday, August 26th: 10am – 6pm
QuakeCon 2017 Non-Profit Partners:
1UpOnCancer

Dallas Pets Alive

Extra Life

nonPareil Institute

American Red Cross

GameChanger
QuakeCon 2017 Sponsors / Exhibitors:
5-hour Energy

A10 Networks

Alienware

AMD

Attic Space Games

BAWLS

Boothya

Corsair Components, Inc

CPU Magazine

EK Water Blocks

Fantasy Flight

Filthy Casual

Fractal Design

Magic Box

Meeple Solutions

Modders Inc

More Fun Comics & Games

MSI Computer

New Blood Interactive

Razer

SolarFlare Games

Sumuri LLC

ThinkGeek

Twitch Interactive, Inc

Ventrilo

Versus Evil
Żródło: http://www.quakecon.org/